Pick and Pack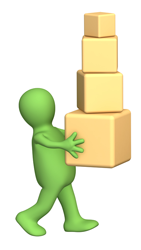 Pick and Pack service from AFD is another way to save on your distribution costs and focus on your business goals. Pick and Pack service is the process of filling orders from goods in stock and packing them for shipment to the customer. Pick and Pack involves processing your product, large or small quantities, picking the needed product for each destination and re-packacking with shipping labels and invoices.
All Fulfillment Direct provides superior customer service and quality control, by integrating all facets of fulfillment including order receipt, acknowledgement, and tracking…payment processing…order returns and refunds…and all necessary reporting. AFD offers Pick and Pack solutions to fit your business needs.
Contact us for how you can get started saving time and money with All Fulfillment Direct.